The importance of a Truck Driver in the supply chain
We've been hearing a lot about essential workers these days. For example, the nurses who soldiered into work during the pandemic, putting their own health and safety at risk to protect ours. Or the grocery workers who kept the shelves stocked. That includes food, medicine, masks, gloves, toilet paper, hand sanitizer, Lysol, testing kits, swabs, gowns … even the COVID vaccine. But before retailers and service organizations could get goods to you, someone had to get the goods to them.
The responsabilities of a Truck Driver
 That's the role of approximately 1.8 million men and women who drive trucks across our highways, and why truck drivers are unsung pandemic heroes: the most essential of all essential frontline workers who worked tirelessly these past two years to replenish supplies and keep America moving. A career in trucking isn't for everyone. If you've ever bristled or become impatient sitting in traffic when you're in a hurry to make a flight or to pick up a child from school, imagine this is the life of a professional truck driver. Then after all the congested traffic, accidents, and bad weather, they get to the port and are #80 in line waiting for containers to be unloaded. Since they are paid for the job rather than by the hour, those 3-5 hours lost will never be monetized. "You roll the mile, you make money," echoed one driver as reported in The Daily Beast. "But if you don't there's no paid leave. In fact, there's no pay at all for the 400,000 drivers who own and operate their own trucks.
A CDC survey found that 38% of independents have no health insurance. Independent drivers are also responsible for fuel, repair, insurance, tires, brakes, and federal fees (trucking is one of the most highly regulated industries in the world). With so much mileage being put on, the downtime and lost income from servicing the truck adds up fast. Then the resulting delays in getting to their next destination may throw their entire schedule and livelihood into chaos.
Keeping the country going in hard times
"Time away from family, friends, missed events and special moments in life, in order to do the job you love, and ensure goods and services get to their final destination is the norm," one driver recalled on TruckNews.com. "In normal times, you struggle to find access to a clean washroom with heat and running water, a safe place to park, and a place to sit down and have a warm meal. There are hundreds of thousands more like me giving up their entire life and staying out here putting ourselves at risk of the COVID-19." These stories we've heard during the pandemic illustrate the immense pressure and stress the drivers are under.
Truck driving is an essential service. Please treat these front-line workers with the upmost respect and dignity they deserve and thank a trucker for the amazing job they are doing in these unprecedented times.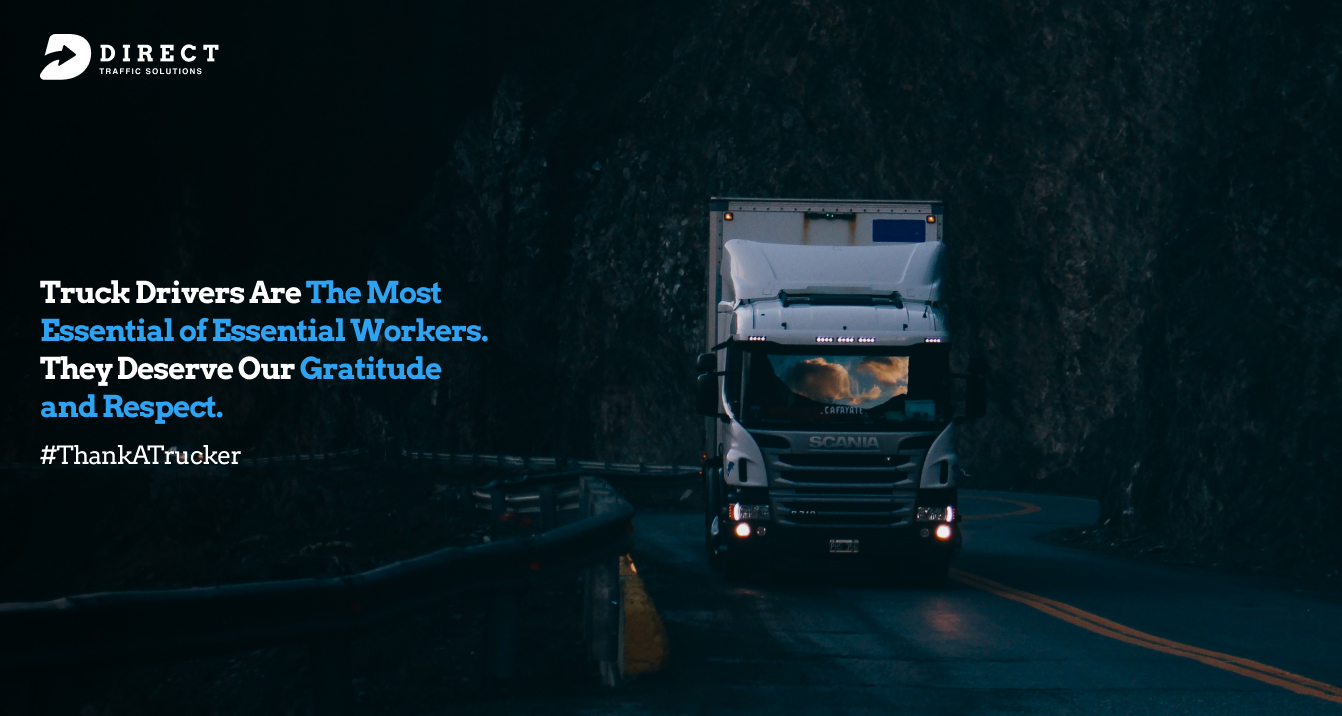 Note: At Direct Traffic Solutions we help drivers keep their trucks full and their families fed. We're matchmakers pairing shippers with goods to move to the carriers that have capacity to transport them swiftly and economically. We help carriers get from point A to B while on route to point C, all with minimal downtime and maximum income potential. If you have goods to ship, learn more here. If you have availability on your truck, learn more here.