For truck drivers, 2022 was ushered in with a bang. Or should we say bomb (as in bomb cyclone). The weather caused frustration, delays, and disappointment for those expecting deliveries in businesses already challenged by supply chain backlogs. In Texas, ice-stranded drivers for 10 hours on an icy highway during a three-day storm that left grounded planes and caused power outages across 2,000 miles of the country.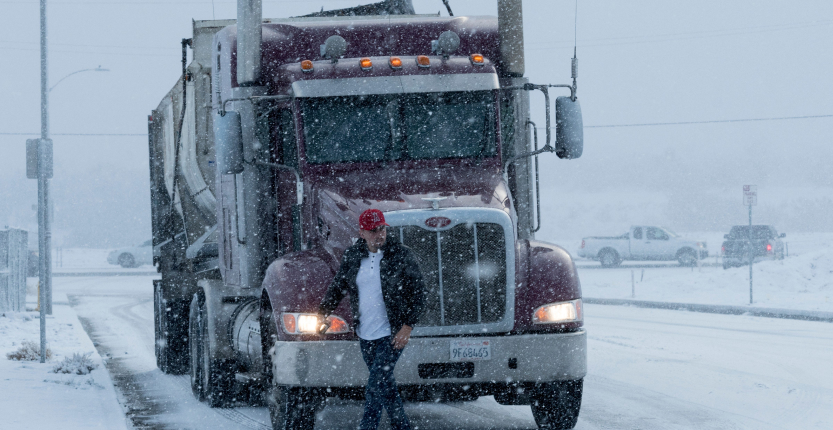 In Boston, wind gusts were as high as 47 mph. In Providence, winds gusted as high as 65 mph. Blizzard conditions made travel difficult and hazardous as visibility quickly deteriorated. Several states banned vehicles from the road temporarily because of the storm. (Photo: James Quigg, The Daily Press via AP)
The Storm King in The North
Over the weekend, several places in the Northeast and mid-Atlantic reported record snowfalls last weekend due to a powerful blizzard. The storm produced record snowfall in Islip, New York, Boston, Massachusetts, among other places.
Dcist.com reports the weather forecast predicted freezing rain, sleet, and snow for the Tri-State within the next day, which will cause an increase in demand for stores. However, the weather and a truck driver shortage made it harder for retailers to restock shelves. Ice-covered roads and snowy weather from last week have led to food shortages at local grocery stores. Several grocery stores reported customers stocking up on food Wednesday. According to the American Trucking Association, approximately 1.1 million drivers are needed to meet the transportation industry's demands over the next decade.
Although some storm essentials are still on hand, businesses expect supplies to run low. Tom Balzer, CEO of the Ohio Trucking Association, said some shelves could be empty for the next few days.
Balzer said some drivers are trying to reroute south for deliveries, but in some cases, delays are inevitable.
"Take COVID out of it and all the craziness we hear about supply chain, and I think it has more to do with the physical nature of being able to move product when we have this kind of weather," says Dave Masser, president of Sterman Masser Inc., a Pennsylvania potato wholesaler that ships to grocery distribution centers in the D.C. region. "Snow is one thing. You can operate in snow. But when there's ice on the road, it's really hard." — DCist.com
In Landover, Maryland, a grocery distribution warehouse was expecting to receive 40,000 pounds of potatoes. But an ice storm forced Sterman Masser to cancel its shipment, which caused shortages downstream at grocery stores like Giant, Masser says.
For several days, unfavorable weather was forecast for truckers in some parts of the country.
Beginning Tuesday night, a heavy snowstorm swept across the Southwest and into the Great Lakes over the past two days. Chicago, Detroit, Flint, Indianapolis, Cleveland, and Dayton, Ohio, among others, experienced daily records for snowfall on Feb. 2 and 3, with totals ranging from 5.4 to 11 inches. More than 350,000 people were without electricity across eight states as of 8 a.m. Friday.
Following last year's ice and snowstorms, the Texas state's power grid was under scrutiny as thousands of people froze to death because of power outages. This time, state leaders argued that the power grid was ready for the storm.
Decisions to Close Were No Longer Up In The Air
The Dallas-Fort Worth International Airport was closed for hours Thursday because of icy runways. FedEx, UPS, and DHL faced significant delays in de-icing planes, impacting air cargo operations.
The company is keeping an eye on the weather, but it puts its employees' safety first. FedEx is based in Memphis, Tennessee, which is under an ice storm warning through tonight.
As we said in our "Thank A Trucker" blog post, truck driving is an essential service. What they've endured this winter on the highways to get us the goods we need, is further testament to their bravery and resilience against difficult odds. Please treat these front-line workers with the upmost respect and dignity they deserve and thank a trucker for the amazing job they are doing in these unprecedented times.

We Take Care of Transportation, So You Can Take Care of Business