Holidays are a time for family and good memories. And for saying thanks.
At Direct Traffic Solutions, we have a lot to be thankful for. We had another record-breaking year, advancing rapidly among the fastest growing privately-owned 3PL companies in the industry. We delivered over 31,000 loads for hundreds of the worlds most respected brands. That translates to 1 billion pounds driven 16 million miles. Our business is up 75% from last year and our staff has expanded by 89%. We are continually upgrading our infrastructure and systems, as there's no slowing down in sight.
So, as we celebrate the end of one year and usher in another, we want to say "thanks" to you. We are proud to continue to keep America moving and contribute to the unsnarling of supply chains during these unprecedented times.
Founder/CEO Robert Meehan explained, "Where we are today, hundreds of amazing client relationships and thousands of passionate employees, is the result of amazing strategy and endless planning. We are adding resources proactively and strategically to support our growth and global expansion plans. This, coupled with remaining close to our DTS family, has always been and will continue to be my benchmark for success."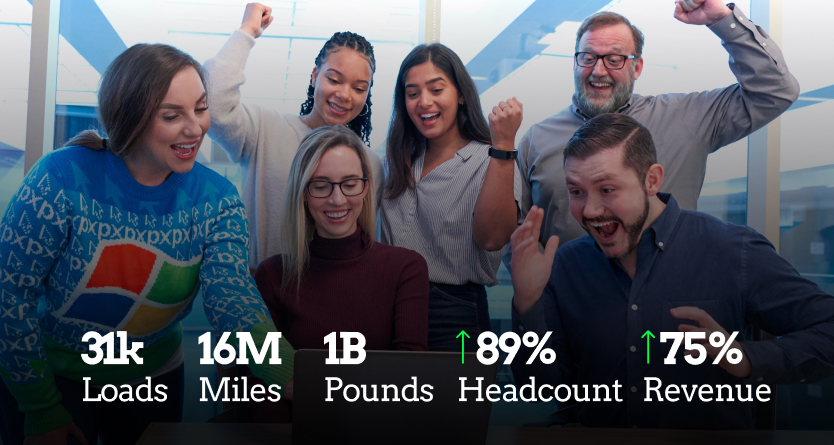 Stacy Meehan, CFO & Chief People Officer, remarked, "The talent within our organization is truly best-in-class, but what makes Direct Traffic Solutions so unique is the passion and love that we possess for what we do. We are proud to share that warmth and level of care with our clients, our employees, and of course amongst ourselves."
Robert Meehan concludes, "My commitment to my staff and current client base is that no matter how fast we expand, that we always bring that personal touch to business."
Thank you for your continued confidence and support.