The "One and Only" Christian Costa
On June 18th, our Controller, Christian Costa, celebrates the ninth anniversary of the only job he has ever had. He joined Direct Traffic Solutions (DTS) just three weeks after graduation. 
Aside from our founders Robert and Stacy Meehan, he is our most tenured employee. Colleagues note that he is not only good with numbers but also intelligent, dedicated, tenacious, and caring.  
Young Christian had dreams of being a sports agent. But since he always did well in math, he figured an accounting elective would land an easy 'A.' Little did he know that this decision would lead to dedicating the rest of his life to this profession. 
"After that course, I went to Rutgers University and got my B.A. in Accounting. I had my eyes set on getting a job in a company small enough for me to advance my career. I saw that "Direct Traffic Solutions" was hiring for 'Accounts Payables/Receivables,' uploaded a resume, and Rob reached out on the same day," Christian confided. "When I joined, only 6 of us were working out of the back room of a run-down New Jersey warehouse." 
After just two weeks of training, Christian assisted in the establishment of the accounting team. He built the finance department from the ground up, rapidly accelerating his career from the bottom to the top. 
"What started as a clerk-accounting position turned into a life-long colleague and friend. One that we have put all our trust into mentoring our leaders of tomorrow," commented DTS Founder and CEO Robert Meehan.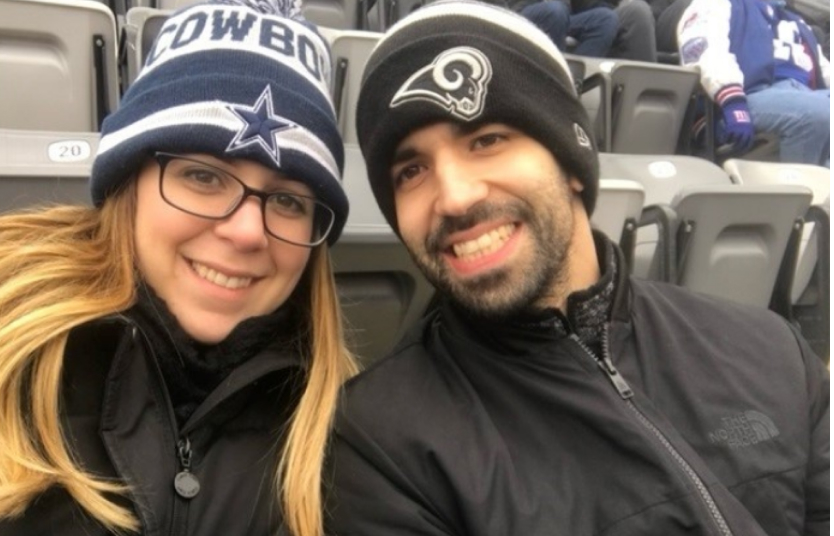 Photo: Christian Costa and his wife, Carla.
Christian is Resilient Because He Does Not Stop Until Finished.
"Regarding our DTS values, 'resilience' resonates with me the most. Being a first-generation Portuguese American citizen, I had to deal with instability at home due to my parent's relationship. Which shaped me to be strong not only for myself but for the people around me," Christian explained. 
Resilience comes in handy when carrying the weight of the business's financials. "It is a stressful 8-6 day to ensure that we make money and minimize expenses compared to revenue. To keep up with growth and work around staff shortages." What is not stressful is the part of his job Christian cherishes: Developing, mentoring, and growing his team of eight– the future leaders of DTS tomorrow. "It is great to see employees pushing beyond the stress to reach their true potential. Their success is my success." 
One of Christian's successes is Keyci Rojas, who has worked for Christian as a Senior Accounts Receivable Representative for the past five years. As she says, "Christian is not just a manager and a mentor, he is a great leader and a friend. He is someone we can always count on." 
"Christian provides positive leadership, motivation, and clear guidance," reflects Delores Williams, who has worked under Christian as Accounts Payable Representative for two years. "He constantly praises the work of the team and encourages suggestions." 
Sheila Martinez is a Senior AR Representative who worked for Christian for almost six years. She adds, "He will not tell you what to do, he will show you and ensure you are confident and equipped to perform your task. He will push and encourage you to grow out of your comfort zone." 
What is in store for Christian's future? "People outside the industry consider work a 9-5 job. They have no conception of the long hours, sweat, and tears that go into transporting a product from point A to point B. We want to make that easier for all constituents by applying innovative technologies to take work out of work. Automation and integration are the fastest way to the $100 million milestones we expect to pass this year," Christian says. 
But no matter how fast DTS grows or how complex the technology behind it, one thing Christian says will never change is the family feel of the business. "You come in brand new, and you already feel like you are part of the Meehan family," Christian adds. "I have seen the owners grow and stay true to their values. They have never changed that family feels." For Christian, as it is for the Meehan's, "It is not about the company, it is about the people. We do care about each other." 
His team concurs. "It is safe to say; that the best executive leads Finance. And we make sure Christian knows it." 

We Take Care of Transportation,
So You Can Take Care of Business