An Interview With Sheila Martinez: "Yes, I can, and I will."
After committing her life to the National Guard for 8 years, Martinez opened up about her service and transition to the private sector. Today, Martinez is a dedicated employee to a veteran-owned brand which shares and breathes her values at the forefront.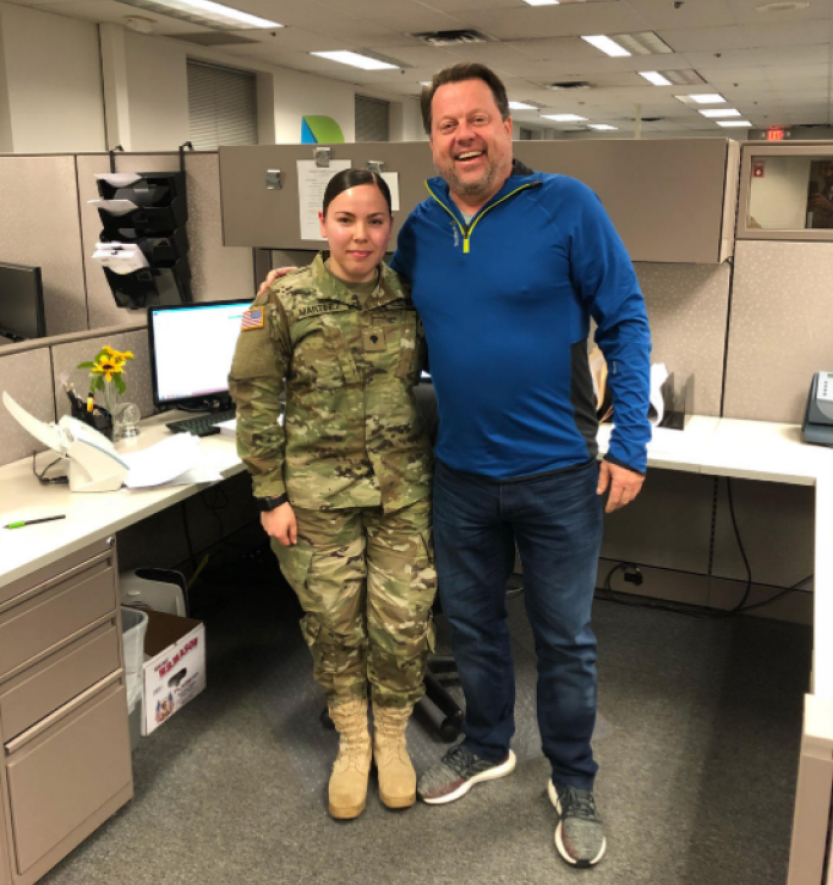 Photo: Sr. Accounts Receivable Rep Sheila Martinez with DTS Founder and CEO Robert Meehan
Tell me about your military journey. What led you to enlist? 
Martinez: I joined the National Guard in 2012. The honest reason why I joined is because someone told me I couldn't do it. I said, "Yes, I can, and I will." And it was one of the best experiences of my life. The entire training, also the school portion of it—the AIT. It was just very good for growth and learning discipline.
Tell me about your DTS journey. How did you hear about DTS, and what attracted you to join? 
The way that I found DTS…I didn't have a close commute at that moment and was looking for something closer because I was working a job an hour and a half in Princeton. I did an interview with Stacy and Christian, and they offered me a job. And here I am almost six years later!
Was the private sector transition a smooth or bumpy journey? How? Why?
It was for sure a smooth one! I started working for DTS in 2017. I was still in the military when I was with DTS—I was never active duty, just in the Reserves. So, I just did my training. I was away for about six months and would come home and do regular civilian life and would just do drill weekends because I was not active. So, the transition was smooth, I would say. At first, yes, it was weird because, in training, there were so many commands and rules. And when I came back, I'd see people walking on the grass, and in the military, you couldn't do that. But I adjusted very quickly, just understanding that "Okay, I'm not in that environment anymore, and I don't have drill sergeants around me."
It's been said, "Friends come and go all the time, but military friends are forever. Your friends for life." Has that been your experience?
I would say that has not been my experience, probably because I was not active duty. But maybe if I were stationed somewhere, then it'd be a different case. Although, I did have a great relationship with my battle buddy—that's what they're called in training. But even though we trained together, she did do active duty. She was stationed somewhere, and I came back to Jersey, so we did lose contact. But I feel like if I were to run into her, it'd be like the connection never left because we have that shared experience.
What is your favorite Military quote and describe how it pertains to your life. 
The army commands. "I would never accept defeat." It resonates with me, especially at the time I joined the military because I was told I couldn't join. I would just not accept someone telling me I couldn't do it. I will never accept defeat because I'm always trying to be better than I was yesterday.
What's your biggest takeaway from military service, and how have you applied it to your advantage at DTS?
Family and being disciplined. Of course, in the military, at least for me, everything was about teamwork. We just had to stick together. That applies because we all have our team and our army here. Even though we had individual tasks, everything was as a team. And with discipline, you know what you're supposed to do, so you just get it done.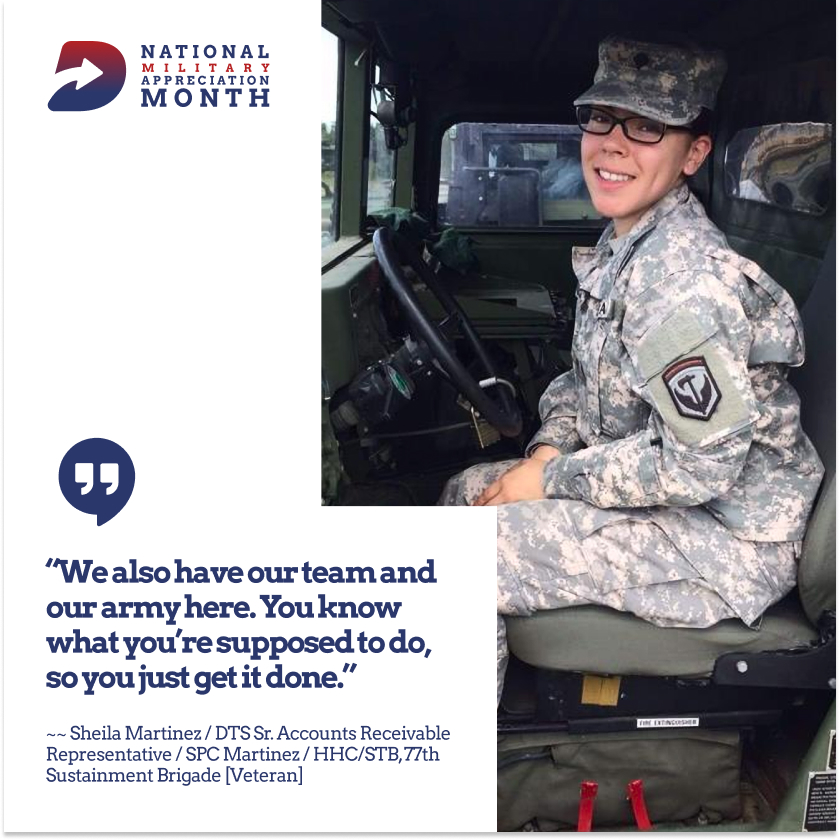 If you were to encourage other veterans to consider a career in transportation, a field we think naturally overlays with the training they learned in the military, how would you persuade them?
Here we're really like a family, and we work as a team. I don't care that it's just a job. In my experience, DTS really cares about its employees. That's how I'd persuade someone to work for DTS.
Of all the DTS values, what's the one that resonates with you most and why.
I guess I would say adaptability because I am the kind of person that can adapt to any situation. I work in accounting, and we're always multitasking. Also, being that I am in a Team Leader position, we're just always having to do different tasks.
What can our non-veteran colleagues learn from Veterans?
It's the discipline. Doing what you're supposed to do when no one is watching. It can be very easy to slack off and procrastinate.
In dealing with carriers or shippers, has knowing they are dealing with a veteran enhanced your relationship?
I'm not sure it enhances the relationship, in my opinion. I don't think the shippers or carriers care that I'm a veteran. I'm in accounting, and they don't that I'm a Veteran—just their money.
What do you think the average Joe misunderstands about veterans?
People think that just because you were in the military, you went to warn, and that's not the case. I totally feel bad when people tell me, "Thank you for your service." Which I understand them saying it. I did join, but I was never deployed. They'd ask, "Where'd you go?" And I haven't gone anywhere but Virginia and South Carolina. Not everyone has an opportunity to be deployed.
The military is skilled in managing a variety of crises—from fighting wars to organizing emergency responses during natural disasters. How can we leverage this at DTS?
I would say working well under pressure because there's so much you may expect. Without being prepared for it, you are prepared because it goes back to adaptability. We can adapt to the situation and handle it.
Military culture is unique, characterized by a shared sense of mission, values, and standards, by unquestioning adherence to authority when required, and by extensive training and procedural practice. Does DTS culture mirror that of the military?
For sure. I would say yes, and even better. There are some experiences in the military that were not so well, such as caring about their employees. There were times in the military when I just felt like another body. In DTS, I do not feel like just another employee.

We Take Care of Transportation,
So You Can Take Care of Business